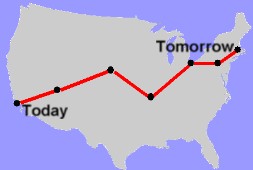 FINANCIAL PLANNING SERVICES
THE PURPOSE OF FINANCIAL PLANNING
Navigating through the financial stages of an active and productive life can be a challenge. There are many twists and turns. Most travelers in unfamiliar territory rely on a map. They check the progress of their journey as they travel. They periodically compare the road signs they see along the way to the information on the map. Just like a road map, the purpose of financial planning is to help you get you to your destination in a minimum amount of time, and without wasting expense on mistakes and wrong turns.
Who Uses Financial Planning?
Most people who request assistance with fee-only financial planning and wealth management are committed to reaching, or have already reached their destination of financial independence. Usually they have reached this point because they recognize the value and necessity of managing their wealth and income thoughtfully. They recognize the value of:
Drawing upon expertise that they do not have the time to develop
An objective second opinion, and
Unbiased recommendations
Employing a sound financial approach is not limited to those who are already wealthy. It is equally valuable for people who want to improve their financial position and results. They want to make sure that they are on the right path, and are making the best use of their assets.
LFM&P Planning Services
LFM&P can assist with the following financial planning services, in addition to investment management:
9-7